We returned home Monday from a weekend of spring break fun at the ranch.  It was a lovely little getaway.  One of the benefits of going there is that the dogs can come too and oh boy do they have fun.  They have been asleep since we got home I'm pretty sure.
I said a weekend of firsts because I'm pretty sure we each did something new.
Carter learned to play CLUE.  I loved playing with the fun 'vintage' game board.  My favorite part was that the floral print in the kitchen square is coming back in style now.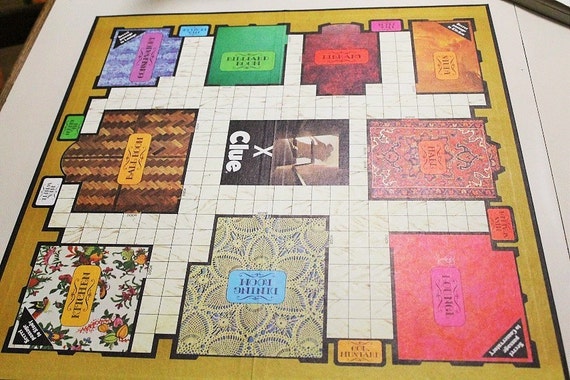 See what I mean?
Look at these cute detective faces!
We also brought Carter's 'vintage' game Payday.  I bought it online and we gave it to him for Christmas.  It was a first for Gran playing Payday.  Gran played a cautious game, never taking out a loan to buy a deal and never playing the lottery.  Let it be known that Gran did not win, but she also was never in debt and set aside the money with each bill as she got it in the mail.  It was adorable and amusing.
Tom and Carter both learned about the wonder that is the computer game Oregon Trail.  Carter and I played the first game together and made it to the Willamette Valley with all five members of the wagon alive.  Carter played each game after that alone and he frequently forgot to feed his people.
I got to go on a tour of the surrounding area where Tom grew up.  I had heard so many stories over the years and it was fun to put pictures in my mind to go with the stories!  I got to see the ranch where he worked.  The ranch is also home to a somewhat infamous unsolved murder.
We also got to see this adorable tiny restored schoolhouse that Tom's great grandpa attended.
I have to share these two pictures because they are just so funny and cute.
I am pretty stinkin' tired and definitely still recovering.  I only had a few little POTS issues while there.  My body refused food randomly one day.  My oxygen got pretty low one day for some reason, but it climbed up with using oxygen for a little bit.  I had some headaches and pain at night.  Nothing too horrible though.
I haven't done a whole lot besides eat, sleep, and sit these last few days.
In other news, I found a new electrolyte boost that I'm testing out and then I plan to let y'all know about it!
I hope that spring break was nice to each of you too!
P.S. I'm planning a super duper fun little project and I can't wait to blog about it and share it with all of you.